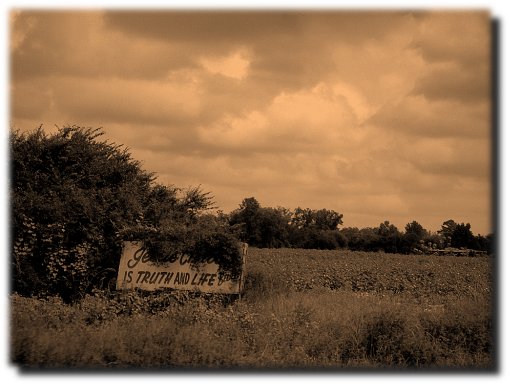 "At some point, the gospel gets aggressive."
I looked up at him. There was that rush, that slight piercing feeling in my chest, that flip-flop in my stomach, that heart-beat quickening just a bit. You know that feeling, when you're sitting in church and all of a sudden you feel as though the pastor is speaking only to you.
That's the Holy Spirit.
That's our cue to pay attention: This one's for you.
I had just had a series of conversations that went something like this:
Person: "So, how do we get more people to come to church and like, love God and like, be disciples and stuff?"

Me: "Um … I don't know."
That pretty much sums it up. I probably said more than that, dropping buzzwords like "missional" and "outreach" and "organic," and I probably said something really stupid like how we should really get a sign in front of our building. Surely that would help.
A sign will definitely get some serious disciple-making going on.
Gag.
See, here's the deal. I'm friendly. Really friendly. I'm an introvert but I get the fact that people are what God cares about. Plus, I truly do like people.
And, I love Jesus.
And I'd really love for them to meet each other.
But apparently I'm terrible at introductions.
Anybody else?
Sometimes I forget that the whole point of this life-thing is to introduce Jesus to those who do not know Him. That's why we're here! I just read through Acts, and was struck anew by how simple Jesus' mandate really was:
1. Pray and fast

2. Proclaim the gospel

3. Share all your stuff

4. Expect suffering
That about covers it.
I've made baby steps in prayer and fasting. I'm beginning to expect the suffering thing (not that I like it!). I've come a long way in sharing my stuff. But honestly:
I haven't come very far in proclaiming the gospel.
Confession: It's much easier for me to give away my stuff than it is to boldly talk to people about Jesus.
*Sigh*
Why? 
There are probably a lot of reasons, but one of them has to do with idols. (Idols of the heart are those false gods we live for, the hidden reason we do what we do.) Most people tend toward an idol of Power, Approval, Comfort, or Control.  I don't mind not being in control and I don't thirst much for power. I don't struggle much with the idol of comfort–which means it's much easier for me to give up my stuff, or money, or go without. (Not saying I'm immune to those things, just not as much.)
I struggle with the idol of approval.
So it's way harder for me to bring up a subject that is bound to bring me a nice healthy dose of rejection.
Teaching at retreats? Sure. It's easy to be bold there. Plus, let's be honest–I get a nice dose of approval pretty regularly in those settings.
Telling lost people about Jesus? There's a 99% chance of rejection at some level.
But, Acts has been messing with me because Paul didn't give a rip what anybody thought. Except Jesus. Paul was stoned, imprisoned, rejected, ridiculed. You name it. But he maintained,
Am I now trying to win the approval of human beings, or of God? Or am I trying to please people? If I were still trying to please people, I would not be a servant of Christ. (Gal. 1:10)
Yeah … doesn't get much clearer than that.
But here's the thing: The idea of being bold in talking to people, and specifically about talking to people about Jesus can come across as being creepy. In our culture that's a taboo topic in everyday conversation, so to bulldoze through that social norm is to enter into a serious creepy-zone.
But there is a place somewhere in between creepy and cowardly.

Sure, it's obnoxious when people wear sandwich-boards on street-corners and scream about hell. It's creepy to go up to random people and start preaching.
But I'd venture to say none of you are doing that. It's more likely you're something like me, comfortable meeting people, serving people, and maybe even inviting people to church, but really uncomfortable actually talking to people about Jesus.
Maybe you too are afraid of appearing creepy. And maybe we settle back a little too far.
Maybe back into cowardly.
On Friday I'll share a fun story of taking a step, feeling creepy, and seeing how God came through (still waiting to see how the story ends). For today, let's consider together how comfortable we are talking about Jesus.
Not church, not politics, not morals or virtues:
Jesus.  
There's this crazy verse that keeps haunting me. And it's sad to admit that as I'm writing this post I'm thinking to myself, "No one is gonna like this one. Definitely  not gonna get any positive comments here." It's sad that as I'm writing I'm thinking of whether or not I'll be approved of or not. By you. Instead of just asking Jesus, "Is this what you want me to say about you?" That approval addiction runs deep, but this verse cuts to the heart:
"For whoever is ashamed of me and of my words in this adulterous and sinful generation, of him will the Son of Man also be ashamed when he comes in the glory of his Father with the holy angels." Mark 8:38
Chewing on this today, with you. What heart-idol to you tend toward? How do you feel about talking about Jesus with others? Is there someone specifically you want to name, asking God for boldness in talking to him or her about Jesus?  Father, change us and make us bold. We love You so much. {Thank you for reading.}
{ 6 comments }