Finally, we're back to simplicity! The fact that it took me two weeks to get back to this series is proof that life is anything but simple. Emergencies happen, sleep doesn't, and people inevitably get sick. But here we are and I'm happy to share the last two components of our Simplification Overhaul: Schedule & Meals. (Read here about simplifying Toys and Clothes)
Schedule
When Payne speaks of scheduling he emphasizes the importance of establishing regular rhythm.  There are repeated "notes" if you will that provide security and stability for our children. Thursday is laundry day. Homeschool lessons are from 1-3pm, always. Wednesday is family night. Our bedtime routine stays the same. Dutch has an intense need for predictability, so simplifying our schedule simply meant building in key points of predictability whenever possible.
He also suggests balancing "A-days" (Active) and "C-days" (Calm). He encourages us to step back from our schedule and take note of too many successive A-days which might lead to melt-down or overstimulation. This helped me to better craft our weekly routine so that there is a healthy balance of Active and Calm.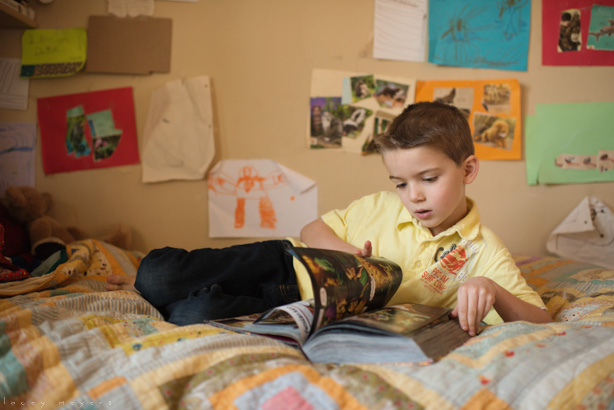 For example, Sunday-Monday-Tuesday are our active days. We have church, church dinner, prayer meeting, and Bible study. By Tuesday morning Dutch is done. He's peopled out, so his behavior deteriorates fast. But Heidi's just getting warmed up!

So instead of taking Dutch to Bible study, he "goes" to work with Daddy, sitting and reading in Jeff's office while he works. Dutch loves the Daddy-time that's quiet and calm, and Heidi & I love the little social date this affords us. I know not everyone has the luxury of planning around each child's temperament, but taking each one into account does help us be more intentional in our planning (and avoid meltdowns!).
Back when the kids were itty bitty, I followed Jamie Martin's suggestion of developing a Steady Days Schedule,  then I created a daily Picture Plan to help visualize the day's activities. It's morphed over time but it's still the same Word doc, revised each year as children grow and needs change. This time around I focused on building in better "no budge" boundaries, things we'll do as consistently as humanly possible. This doesn't mean the schedule is tighter, there's actually more time for unstructured play, it just means that we keep the few "notes" of the day constant.
Payne also emphasizes the need for large chunks of unstructured time for children to be free, create, imagine, get bored, and play. He asserts that over-scheduling children adds incredible stress, planting seeds of addiction as we program our children to bounce from activity to activity, relying on constant outer stimulation. He pleads with parents to create lengthy daily pauses for our children, giving them the gift of long, uninterrupted time for imaginative play. Our kids have from 8:30-12 free every day except Tuesday. They thrive on this extended free time, and so do I!
To my surprise, our simplified ("stricter" NOT "tighter") schedule, helped me much more than I'd anticipated. Knowing that on Mondays I clean, on Wednesdays I write or meet with people, and on Thursdays I do laundry and cook ahead helped  me relax more about items undone. There's a "box" of time, if you will, for everything. Sure, unplanned stuff still happens. A lot. But these known notes of predictability have reduced our daily stress-load significantly.
Meals
After discovering we needed to go gluten-free and dairy-free, the meal situation was stressing me out. We knew simplification was key if I was going to keep my sanity. So, for this season we decided to greatly simplify by doing the same meals every week, themed on a country. We talk about and learn about that country on its day. Now, lest you think I am whipping up exotic menus every day, let me share with you how humble our meals really are:
Monday: Mexican (Our church dinner & prayer meeting so it's Mexican-food potluck)
Tuesday: Italian (Spaghetti with italian roasted veggies)
Wednesday: French (French roasted whole chicken and french fries (ha!))
Thursday: Indian (Chicken curry and jasmine rice)
Friday: Dutch (It's supposed to be Dutch meatballs but it usually ends up being random because we're usually gone on Friday nights)
Saturday: African (Beans & rice)
Sunday: American (A conglomeration of everything leftover! Isn't that what Americans are?)
Aren't you super impressed by all my fancy meals? (ha!) (I share more about frugality and food simplification in Faithfully Frugal.) Breakfast is always the same, lunch almost the same, and dinner rotates between these 7 meals. Yes, we will switch out as the seasons change (variety is important for a healthy diet) but our culture is so variety-addicted that a simple meal schedule (the norm in other countries) seems outrageous to us. When it's snack-time, there are two choices. This has also greatly simplified grocery shopping and budgeting. And the kids quit complaining! Can you see me doing the happy dance?
So, none of this is headline news, but once again I recommend Simplicity Parenting for anyone (even if you don't have kids!) who is trying to take back the reins of this crazy-life and intentionally create more calm, with space to breathe.  May we "behave in the world with simplicity and godly sincerity, not by earthly wisdom but by the grace of God" (2 Cor. 1:12). We'll finish with a few final thoughts on Wednesday. Have a blessed day, friends! Thanks for reading.
{ 3 comments }