'When would you like to make your next appointment? We have Tuesday and Thursday available next week." I smiled at the woman across the desk.
She twitched nervously and ran her hands back and forth on the tops of her thighs, rocking back and forth. Her eyes darted around the room, trying to decide, trying trying trying to decide. She lifted her hands, turning them towards each other, making the okay-sign with one hand and poising her other hand to pull at the finger loop: muscle-testing.
In a low voice she began mumbling, "Indicator Tuesday." She pulled. "Indicator Thursday." She pulled again. I could see no discernable difference between the two finger motions. She tried again. Still I saw no difference.
Apparently she couldn't either.  Flustered, she muttered something about calling me later to schedule, and escaped out the door. The air rushed in warm as she left, but something chilled me to the bone.
~
That was almost 17 years ago. I keep different company now. We would never be so bizarro as to finger-test for a doctor's appointment. But sometimes I still get that same chilled, something's-not-right feeling, when we do churchy versions of muscle testing, when we start playing a sort of spiritual connect-the-dots with life.
~
"If this happened, I knew it was God, but if this, then it wasn't God."
"And everything fell into place so I knew it was a God-thing."
"God, if you want me to do this, then make such-and-such happen, as confirmation."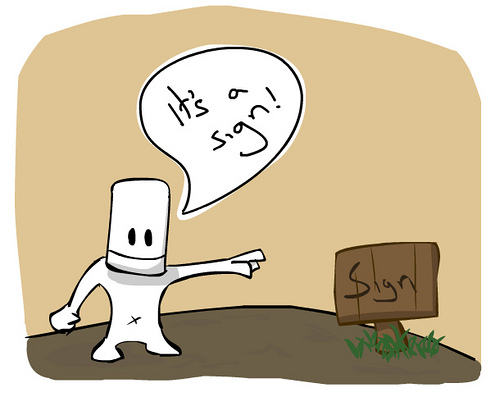 I have said all of these things. These are all quotes from me. I distinctly remember praying about whether I should date a certain guy. I prayed versions of all three of those statements, and lo and behold — all the "signs" came together … and he totally wasn't the right guy for me. On the other hand, everything went completely haywire with my own husband (having your future spouse tell you, "God told me we would never be together" is usually NOT the sign you're praying for) and yet I can't imagine a better person suited for me, or who I'd rather serve Christ alongside my whole life.
What's my point?
Just this, Jesus had some pretty strong words for people who were always after signs.
An evil and adulterous generation seeks for a sign, but no sign will be given to it except the sign of Jonah.
—Jesus
The sign of Jonah was JESUS. It was Jesus' death and resurrection. The sign of Jonah was the gospel. And I have sat with (and looked in the mirror) at so many women who are up and down and fit to be tied with madly trying to discern God's will, laying out fleeces every night and daily doing the devotional divine dip, looking for a sign or a "word" or a song or spark that will give them hope.
Not downplaying our need for hope. We desperately need hope.
But we need a lot more hope than a sign or circumstances can ever bring.
Here's what I mean: It is so easy for us to slip in spiritual superstition instead of clinging to the One True God. Hey, I love those crazy goosebump things that happen when God shows up in crazy ways and you're left jaw-dropped, hands-raised, fall-to-your-knees in worship kind of things. Love those.
The truth is, sadly, just as circumstances "line up perfectly" for us, sin also presents itself to us in crazy circumstantial ways. Just the right temptation at just the right time. In Jesus' weakest moments, Satan tempted him with the perfect solution to his felt needs. But instead of looking at the circumstances (I could easily turn this stone into bread! Great suggestion, Satan!), He looked to the unchanging Word of God.
As long as we live lives of spiritual superstition, we will be tossed to and fro, chasing signs and fleeting feelings, pulling verses out to meet our needs.
What if, instead of frantically seeking a sign we diligently sought Him? We pored over His Word. We studied it, memorized it, surrendered to it. If we knew His Word and His character and His love and His voice and His presence so much that we could speak His truth (as Jesus did) to every temptation flung our way.

Even the temptations that seemed like opportunities. 
The truth is, we have a wily enemy, and while I don't mean to be Debbie Downer at the start of your week, I pray we are wise, grounded, godly men and women of God who don't settle for spiritual superstition but who cling steadfastly to the hope of the gospel, finding the stability of a life tethered to the cross. 
{May this stability and true hope be yours this week. Thanks for reading.}
{ 3 comments }