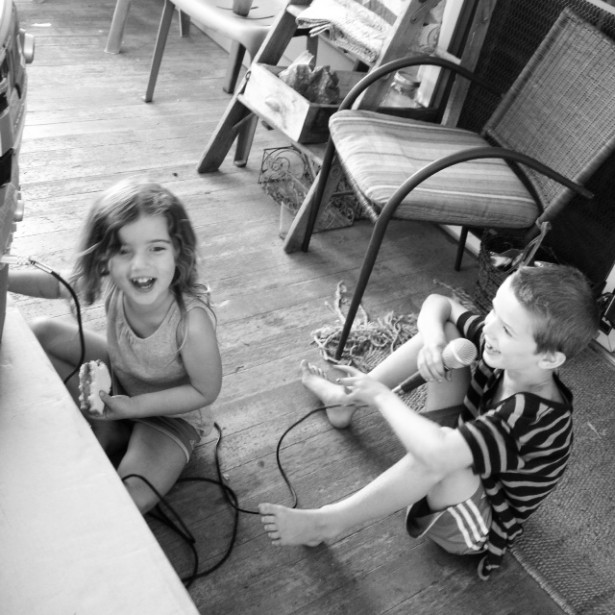 Because when Mom winds up in the hospital and Julie shows up, as from the grave, singing Led Zeppelin in the backyard, what else is there to do but sit in a cardboard box and laugh out loud?
Some days are just a total curve-ball.
Not to God, of course. He's the Pitcher. And so when we got whimsy and drove out to surprise my parents with an overnight visit, it was Providence that that night we'd wake to Dad urging us out of bed, "Help me, we're taking Mom to the hospital."
It was Providence, of course, that the house we fell backwards into buying would also happen to be right next door to the hospital–Providence Medical Center. It was Providence that we'd wind up back at home, then, standing on our back porch playing with the karaoke machine when Julie, of all people, opened the gate and glided right into the yard, smiling ear to ear.
I about had a heart attack. Let's just say things did not end well when Julie flew the coop. I instinctively put a hand on each child, Mama-Bear like. But, in classic Julie fashion she beamed, arms wide for a bear-hug, asking for coffee and did we still have her things?
Then she took the karaoke mic in hand and sang Led Zeppelin at the top of her lungs. 
Jeff came home, blinking hard at the scene as he walked through the gate. Julie?! 
Yes. And it was so good to see her. It's been bitter heartache, to be sure, but I love that girl somethin' fierce.
And so went the afternoon and the most bizarre of days.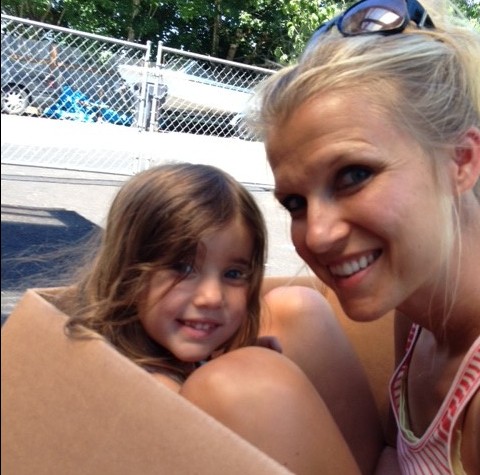 And so later, when Heidi had decorated her enormous cardboard box and made it her secret clubhouse, of course I had to crack the code and earn my way into the special space. And she plopped right down on my lap and I grinned, ridiculous, as neighbors drove past and we two sat there squeezed into that box laughing out heads off.
What else do you do on days like this?
Because some seasons are curve balls, not just days. Right? Sometimes everything we thought blows away with a gentle summer breeze and plans change. And practicing that "I don't know" phrase sure does lighten the heart, and makes the unpredictable mundane less insane and more … fun?

Yes, fun.
Because between hospital visits and Led Zeppelin lyrics and absolutely nothing turning out the way you thought, there is grace. 
Life held lightly. Yes?
So, dear friend, this week: Just climb in the cardboard box and laugh.
Oh Father, for grace to see the humor in the chaos, the laughter in the loss, the joy amidst the pain. For the hope of eternity, the someday righting of every wrong. Thank you for this vapor-life that's here today and gone tomorrow, that turns our eyes to forever and the joy of knowing all this insanity will someday make sense. You are God; we are not.
{And to you-all, dear friends, here's to grace for your curve-ball days. Thanks for reading.}
{ 1 comment }