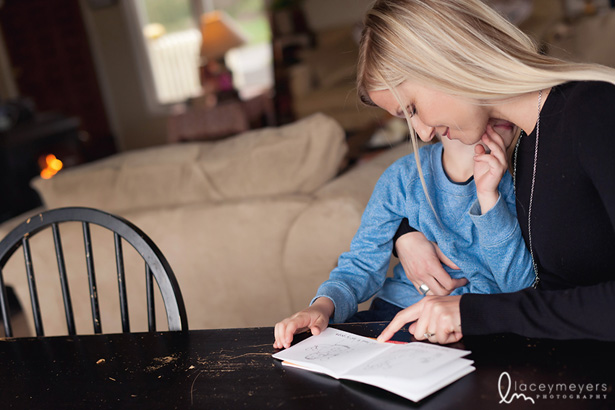 "Dear God, please help Mommy not be sad at her retreats because she misses us."
Oh sweetieboy.
We were sitting around the dinner table. Jeff had asked each of us to pray one thing for someone else. This was Dutch's prayer.
The last weekend's goodbye had been tearful. Dutch and I had held each other long in the yard. As always, I explained that I was going to teach the Bible and talk to ladies about following God.
"Mommy, do you want to go?"
I was completely honest: "I want to go because I love God and I want to help people love God, and you get to be with Daddy and you always have fun and when I teach God's Word I become a better Mommy. But you know what? I still get sad every single time I have to go. And I miss you so much while I'm there." Oh you have no idea how much Mama misses you, sweetieboy. He's almost 8 and I've been speaking at retreats nearly his whole life–I was nursing him at my very first one. We've done this countless times but it's still never easy. Eventually he cheered up and waved goodbye.
And then, days later, this prayer surfaced. And it blessed my heart because he's beginning to see that even hard things can be good, and the truth is, as much as I am gung-ho enthusiastic about saying, Spend time with your kids, people! As much as Everything Else Really Can Wait, and as much as Babies Don't Keep, and They Grow Up While We're Not Looking, andBedtime Takes Forever and It Should, and What Not To Miss, and all these wonderful things, the truth is that unless we are careful and listen closely to God, even these sweet messages can make us slaves to Mommy-Guilt, falsely believing our days should only involve endless hours on the floor stacking blocks and giving blow-bellies.

It's not as warm and fuzzy, but the truth is–we're called to raise our babes and do the dishes. We're called to snuggle and share the gospel. We're called to read Goodnight Moon for the millionth time and, I hate to say it, some of you also have to work.
Like, at a job.
This is called reality.
And, this is also called following God. The truth is, God is the only one who gets to call the shots in our lives. We must know what we're called to, and obey that. It will look different for different people. There are many times when I put everything aside and just play for hours with my kids.  I homeschool them. I take them with me everywhere. Heidi comes to all my meetings with me. We don't even hire babysitters, people! I want to do whatever I can to have our kids WITH US as much as possible.  But there are some times that it is in their best interest to respect Mommy and let me study God's Word, teach a retreat, spend alone time in prayer, clean the house, give Daddy my full attention.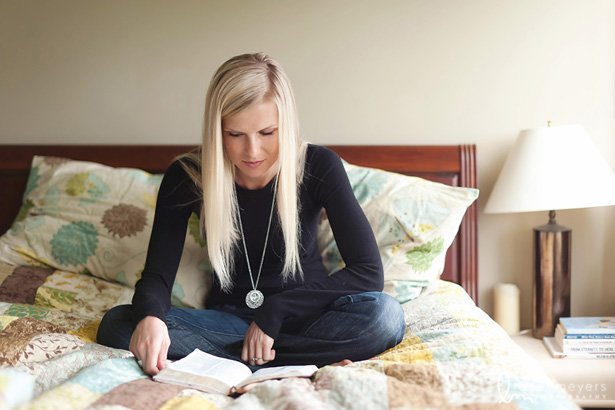 See, we can let this vague Mommy-guilt thing make us slaves to a child-centered existence.
We're not called to a child-centered existence; we're called to a Christ-centered existence.Yes, we give countless hours to our children, but they don't run the show.
God does.
While it may be true that I'll never regret spending time with my kids, it's also true that people are dying without the truth of Jesus Christ and it is a disservice to our kids if we teach them that the world revolves around their soccer schedule. 
The problem isn't necessarily that we don't spend enough time with our kids. The problem is what we're doing instead.  
I don't want my kids to see me ignoring them because I'm shopping for shoes. Or working extra hours striving after the elusive American Dream. I don't want them to feel Facebook is their rival for my attention.  I want my kids to see that giving our lives for the sake of the gospel is the most important thing. Family time is precious.  But we will not make family an idol.  Even family falls under the ultimate purpose of glorifying God by enjoying Him and sharing His love with a lost world.
This post might not get 43,000 Facebook shares like the bedtime one, but I believe this truth is just as important to share: The only way to end Mommy-guilt once and for all is to commit afresh to a Christ-centered life, and allow Him to set the course for our days. 
For the glory of God, the health of our hearts, and the good of our children. Amen.
{Revisiting this truth today. Do you know the forgiveness of Jesus Christ and the freedom of the gospel? If you have not yet begun a new life of faith, please contact me here. Let's talk! Have a blessed weekend, and thanks for reading.}
{ 0 comments }