"Love … puts up."
-1 Corinthians 13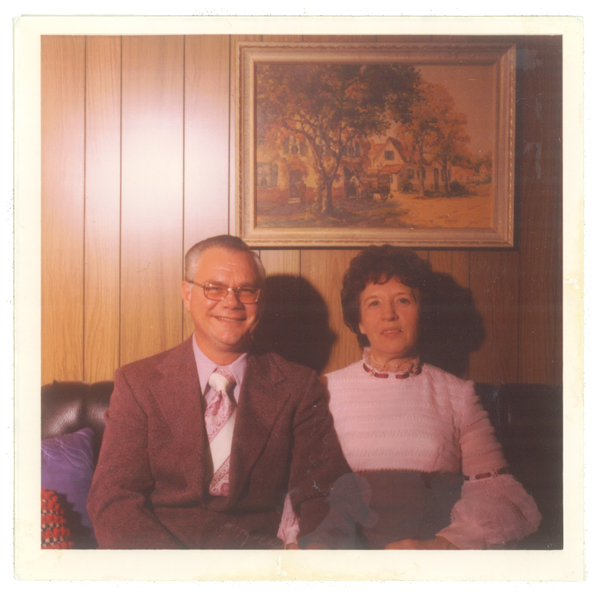 I flipped open the laptop–there on the keyboard lay the photo.
I shook my head and smiled, a little surprised at the emotion welling up in my eyes. It's been 10 years of passing that thing back and forth, sneaking it into unexpected places for the other to find. Book lovers, we had perused the small used book store at the beach, sorting through dusty titles, searching for some hidden literary gem. I don't remember what we bought, but when we got it home, tucked within the pages was this polaroid picture.
Now it's been tucked into places more times than I can count. It's spoken a thousand words. We've tucked it in at times to say, "I'm sorry." At times it means, "Just thinking of you." And at times it means so much more. But whenever I see this photo it's like another stitch, like pulling that thread taut and tugging so slightly, so all the stitches tighten. This picture reminds me of all the stitches over the years and pulls them tighter together.
And now, you're away. This afternoon you drove off, and Heidi waved her little arm until we couldn't see you anymore, and I felt silly for feeling so sad. It's only a week, after all. But suddenly I remembered yesterday, how I had sighed (the classic victim-SAHM sigh) as I sorted through your middle pile. How I eyed you accusingly when you shelled pistachios right after I'd cleaned the counters. How I only half-listened this morning when you shared your idea with me. (How could I forget how much courage it takes to speak dreams out loud?) I remembered  how you let me eat your french fries today and how you met us for a picnic when I'm sure you had more pressing things to do. And I remembered how you worked all afternoon fixing the lawn mower, and surprised me with Peet's coffee for my trip this weekend. Then I remembered how I gave you the stink eye when you ate the last of the caramel corn.
How I left today without even doing your laundry. And how you said no big deal and cheerfully dug through the dirty clothes to find enough socks to wash and take on your trip.
Why do I love so pathetically?
I stared off, sad for all the ways I haven't loved you more. But then, this picture somehow centered me. It always does.
Because you put it there and it tells me, all over again, that love covers a multitude of sins.
It is us, in so many ways. The faux wood panelling is hideous, of course, and I love it. The artwork is off-centered, and not in an artistic way. The purple and red pillows are delightfully strange, but the faces are the best.
He is Just. So. Happy.
His hand is on her thigh, his tie is huge, and he's just grinning from ear to ear.
She, well, she's half-smiling, but really thinking of what to make for dinner.
I am this woman, except I have better hair.
She's putting up with the picture-taking (and him?) even though she'd rather be checking some ridiculous item off her list.
He's just happy with his hand on her leg. The End.
He puts up with her half-smile just as she puts up with his beam. 
And that's the beauty of it: Love puts up.
Because not all romance is wild passion all the time. Because I put up with your stuff and you put up with mine. And because even though this couple isn't running barefoot down a beach, their love is compelling to me. Because that's just it: Love puts up. Because at different times last week each of us wanted to pack up and quit this ministry life. And both times the other one of us simply put up. Listened. Waited. Stayed quiet. Prayed. And both times we came around.
Because real love is so different than it is on TV. So much better. Because even the "putting up" part is good. It's the time walking together in the valleys.
It's the spaces in between the milestones, where you just keep holding hands and holding on.
Kind of like this:
Love never gives up.
Love cares more for others than for self.
Love doesn't want what it doesn't have.
Love doesn't strut,
Doesn't have a swelled head,
Doesn't force itself on others,
Isn't always "me first,"
Doesn't fly off the handle,
Doesn't keep score of the sins of others,
Doesn't revel when others grovel,
Takes pleasure in the flowering of truth,
Puts up with anything,
Trusts God always,
Always looks for the best,
Never looks back,
But keeps going to the end. (1 Corinthians 13:3-7 MSG)
Thanks for putting up with me, my love. I really am sorry about the laundry.
{Thanks, all, for reading.}