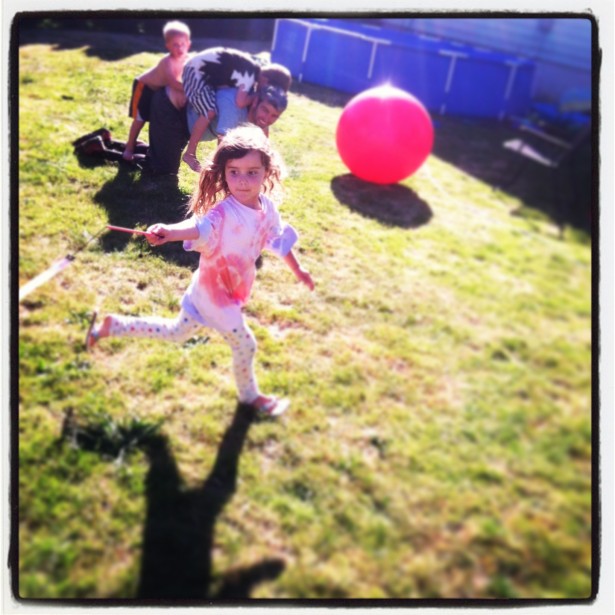 She'll only be four this one summer.
Only this one summer will she talk exactly like this, still slipping in that thumb while no one's looking and smiling her shy smile with round baby cheeks. Already I watch her dance through the yard and wonder when her legs got so thin. When did she shed that baby fat and start looking like a little girl?
Only this one summer will I be teaching her to read. And watching her twirl in her Tinkerbell swimsuit. And combing out her curls while Dutch reads aloud Henry & Mudge.
Back, last month, when I read the book on submission and asked God what exactly He wanted me to submit to, this had topped the list:
You're waiting for something more dramatic, perhaps?
That's it.
And that's exactly why it's the hardest for some of us, yes?  That's it. 
Wipe bottoms, noses, counters. Fill tummies. Teach manners. Correct attitudes (usually our own).  Scrub toilets. Vacuum carpets. Fold laundry. Fold laundry. Fold laundry. Fold laundry. (At least that's how it feels.)
That's it. 
And the world "out there" seems like so much more. More exciting, more fulfilling, more adventurous. Out there we're more appreciated, more stimulated, more educated. The facebook feed reminds us how dull our days are compared to everyone else's. But that's where we're tricked.
There's so much more going on within our walls than we have any inkling…
When we get down low, close enough to really listen, we're laying the foundation of a child's confidence. She will grow up knowing she's valued, loved, cherished.
When we crawl under those covers to snuggle, patiently soothing instead of shushing up and slamming the door, we're squelching fears and showing tangibly the love and patience of a tender Heavenly Father who calms every storm and commands evil to flee.
When we discipline that child for the eight-thousandth time we are instilling in them a lifelong confidence that actions have consequences and God's way IS truly the path of life and peace.
When we laugh we fill their love tanks with just a bit more joy.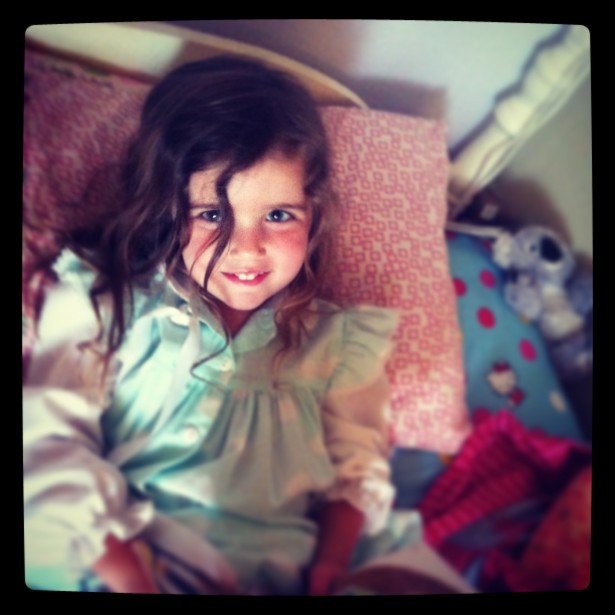 When we stay near and just "waste" time together, we tie those heart-strings together, tethering trust through time. 
These little years require our time and attention. 
Because in just a few years someone will show him pornography. In just a few years some punk kid will whisper in her ear, "Just trust me." In just a few years the onslaught of humanism will overwhelm their world like a flood–be more, do more, perform more. Be sexy, be powerful, achieve, dominate, control. Do what feels good, reject authority. God is boring, the Bible's outdated, Christianity is for idiots.
I will blink and they'll be there, waging war.
And whether they listen to us then depends on whether we listen to them now. Their stories. Their songs. Their heartaches and hurts. Their interests and ideas.
Ten years from now my writing career will still be here. Hobbies will still be here. Work at the church will still be here. The poor, the homeless, the needy will still be here. (And all my housework will most certainly still be here!)
But my little ones will not be here. 
I only have about five minutes to completely convince them of my and God's love for them. It may feel like a long race right now, but it's not. It's ridiculously short, and 18  years is barely enough time to fill their tanks so brim full of love and gospel-truth that nothing else can empty their sacred souls. Sure, we're all in different places. It's not a SAHM vs. working mom debate.
But if we have littles in our home, one thing is for sure:
Everything else really can wait.
{Praying supernatural strength for you as you nurture those Littles and bring them up in the ways of the Lord. Keep on keeping on! You are running a good race. Be encouraged, sister. We'll never regret the time we pour into our kids. Thanks for reading.}