I hesitate to write more about grief, only because I don't mean to belabor things or draw attention to myself, but I keep feeling like God wants me to be transparent about my experiences, so I will.
So often we think that our ministry, our service to others, flows out of our strong places, our joyful places, the places where we feel confident, secure, whole. But recently, I'm realizing how much of ministry flows out of our weakness, brokenness, the places where we haven't arrived or been made completely whole. So I wanted to share just a few more things God has been ministering to me this past week.
~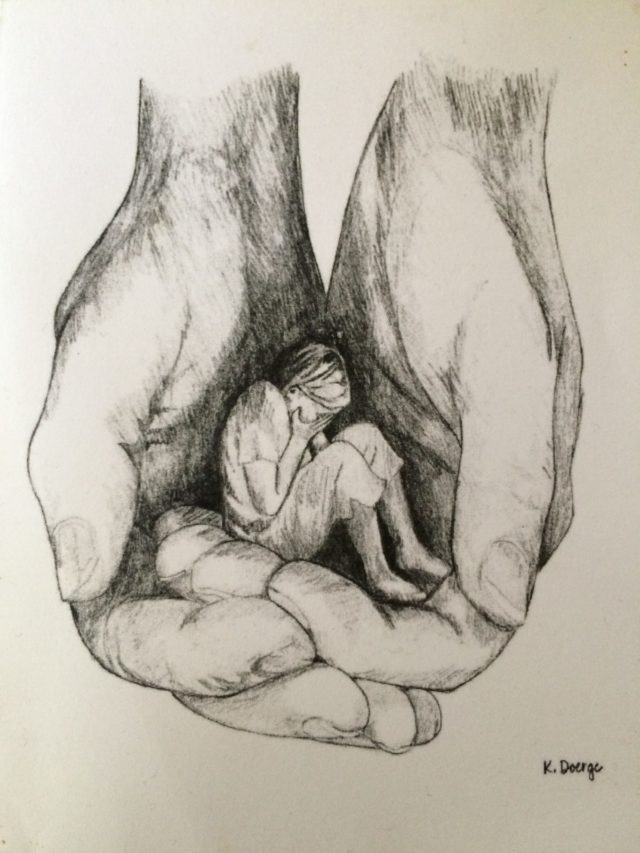 In January, I was unpacking a box of things that had been overlooked during our move. As I pulled out items, I found this card (above). I'd never seen it before, and the inside was blank. I was struck by the picture, and felt so clearly, sharply, that somehow this was a picture of my year, the year ahead.
I didn't like that picture. All I saw in it was pain. Besides, God had also given me the phrase YEAR OF PROMISE for 2017, so it didn't make sense.
Was this a year of promise or a year of pain?
Yes.
As the year has gone on, I see why he showed me that picture, but now I see it differently.
Now, when I look at this picture, I don't see pain, I see comfort.
He's holding me. He's holding you. And 2 Cor. 1 tells us:
Blessed be the God and Father of our Lord Jesus Christ, the Father of mercies and God of all comfort, who comforts us in all our affliction, so that we may comfort those who are in any affliction, with the comfort with which we ourselves are comforted by God.
Jesus promised us that in this world we would have tribulation, BUT, in our tribulation we will experience the comfort of God, the Father of all mercies, so that we may comfort others. Every ounce of comfort that we receive from God is meant to be poured out on behalf of others who are aching as well.
~
As some of you saw on IG, last Thursday I had an experience where all the waves of grief seemed to come at once. Grief is weird like that. It lurks there under the surface, and you're totally fine, skipping along, and then some small thing triggers and it rises up, overwhelms, swallows you whole.
That happened when my kids' beloved cat, Max, went missing and we slowly realized he was gone. My kids were completely devastated, and I think just all the cumulative sadness came on all at once, triggered by the disappearance of Max. In just over a year we lost three family members, three pets, and two unborn babies, and I think it just all added up for my kiddos. So of course, my mama heart broke for them. 
Then that morning a memory-photo popped up on my FB feed, photos of my mom. I won't go into it, but the timeframe and the memories, and all that they represented, and all that is and all that isn't, and all I've hoped and prayed and fasted for and all that sorrow and grief surrounding my mama, it all just rose up like an ocean wave and dashed us all on the rocks. All of it. The news headlines, the sorrow of this world, the division, the pain, the brokenness, plus issues of my own sin and brokenness that I am working through, all of it just rose like a flood and seemed to swallow us whole.
But then.
I took Heidi to a friend's house, as she already had plans to play for the day, and I decided to let Dutch have his first ever time staying home alone. He was happy to have time to himself, and I was too, so after dropping Heidi off, I had an afternoon alone, free. Normally, when I'm feeling my usual energetic, productive self, I would have run errands or studied for a retreat or accomplished as much as possible. But all I could do was sing worship songs at the top of my lungs and sob, wracked, heaving sobs. I texted Jeff to see if I could come see him at work, and good man that he is, he dropped everything to sit in my car with me and hold me while I cried.
After I finished crying, I considered what to do next. I could go straight home, but I was in no hurry. Very clearly I had the thought that I should go visit my old neighbor, who I haven't seen in 18 months, and give her a copy of Sacred Mundane. She's a dear woman who has gone through many hard things, and I just had a feeling it might bless her if I went there while I myself was a bit broken. Sometimes letting people see you weak is a gift you can give them. Plus, I'm never in town alone, so I figured this was the perfect opportunity.
We had a great visit, and while I was there, I remembered another neighbor, who I've only talked to a few times, but whose husband died suddenly, tragically, this year. She's now raising her five kids on her own, and I cannot imagine the sorrow and pain she's experiencing. I wrote her a note, sharing some of the encouragement and comfort that had been shared with me from dear church family members, and left her a copy of my book. It felt good to take my own tears and turn them into words of hope for someone else.
But I was amazed when, an hour later, she texted me that it just happened that that day, that very day, was her daughter's 16th birthday and her husband's birthday (who had just passed away).
This was the first birthday since he passed away.
I had no idea.
I sat there in awe, how God took the comfort which he had given me, and passed it on to her, who was walking through something immeasurably more painful. I had been ministered to by dear ones from church who had also walked through pain, and the comfort was being passed on, and on, and on, and on.
Just like His Word says.
The greatest comfort to me, through all this, was that He loved me enough to use me as part of His loving plan. Despite my failures, shortcomings, weaknesses, He was still letting me be part of His grand scheme of redemption, of comforting a hurting world. He was still leading me, guiding me, loving me. And I knew that I had been able to pass on the comfort I'd received.
Now, someone else knew that they were held in the hands of God, just like me. 
Nothing's wasted.
{If you are walking through some sort of grief, perhaps there is a way you can pass on the comfort you have received from the Father of all mercies. I pray you find the joy of passing on that good comfort and being part of the healing of this world He loves. Thanks so much for reading…}