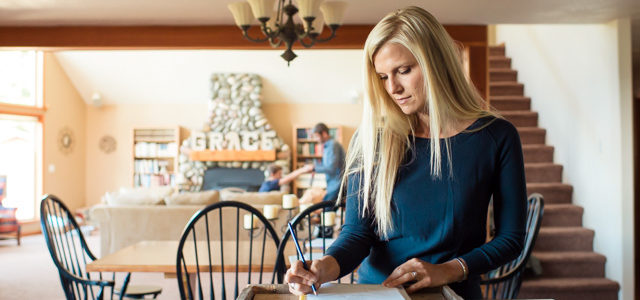 Kari's husband here, seeking to share some words about my wife. Today is her birthday, and while this woman doesn't seek the attention, she is worth celebrating.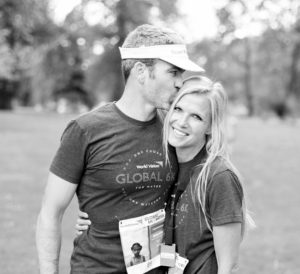 You see, Kari is the same in public as she is in private; she harbors no secrets. Humility and integrity have married together with creativity and authenticity in this woman. Today we celebrate her — WHO she is — above her works, and words. Her worth is in being a daughter of God. 
The words belong flow because there is little editing when it comes to portraying Kari's character. Sure, there are many aspects of our lives that she keeps private, and rightly so. Not once has she shamed our family in writing or speaking the true stories she shares. Kari routinely asks for my input and permission before going public with a private aspect. (I did not however ask her if I could post this.) But the point is, she's the same person at home as she portrays in public; except for here at home she's mostly adorned in sweatpants and a favorite tattered fleece. *smile*
June is a month of reflection for both of us, with birthdays and our anniversary. And I am learning it is a moment to consider the future. Kari is consistently future-oriented; I wake up daily in the past. So the declarations I pray today over her life, some of which I share below on her birthday, have an already-not-yet quality to them. There is the power of the Gospel over her past (absolution and forgiveness and so much more through justification by grace), God eradicating the presence of sin and selfishness (sanctification), and she is becoming who she already is in Christ and will be forevermore (glorification). My bride knows theology well, and lives it better. In the Renew family we say we want to embrace and embody the grace and truth of Jesus. Kari, whose name means "the pure one," seeks to live up to this standard, imaging the pure hope of the God of all Grace. 
These truths are vital to share, for the "secret sauce" of Kari's life is no mere talent or special opportunity. She has tasted and seen that the Lord is good (Psalm 37), and responds to His goodness — and greatness, and grace, and glory — with her whole heart and life. This woman shows up, serves everyone, is found faithful, perseveres through discouragement (hupomone!), and receives the fruit of wisdom only ours through following Jesus. She wanted "nothing" for her birthday, since she's living beyond herself. I say there's a gift we could give.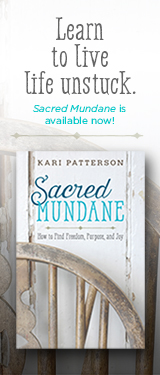 You'll find this blog has no monetized ads, for we're prayerfully seeking to give away the Gospel. We want you to learn to live unstuck through the good news of Jesus. Yet there is one gift you could give Kari, by way of clicking.
Will you pre-order a copy of her new book Sacred Mundane?
(Perhaps to give away. All her ebooks and this new book described here.) 
You'll receive the gift as it releases July 25th, and I guarantee the message will serve you on the path to freedom, purpose, and joy. Sacred Mundane will guide toward hope as you let your days transform your life. Kari has labored over that message for more than a decade — all the while living the sacred mundane life. Her soul and our home spills over its pages; it gets a little messy. God is so good. 
There's something more to this gift: for your purchase goes beyond her. It's our joy to give all our proceeds from Sacred Mundane for the flourishing of women and children in developing whole communities globally. We happily give this to and through World Vision. 
Back to the birthday girl… my prayer over her soul, and longing for her life, is that she enter into the grace and truth of Christ, clinging to the honor and justice that truly belongs to our Creator. So I declare these truths from Scripture over her life:
Kari, you are loved by God, and me. You are a daughter, born again, and adopted into the family of God, chosen before the foundation of the world. The Creator chose you as His own! Being rescued and remade into the image of God's Son, you reflect His glory, and bear the fruit of His Spirit, according to all the creative means God desires. He will complete the good work He began in you, and in us, through your trust, honor, and obedience. He will sustain you to the very end, kept blameless until the day of Christ Jesus. Though you were once without hope, but God because He is rich in mercy through the gift of His Son has saved you forever. You were ordained to live in the good words God planned for you, that you shall walk in them all the days of your life, and this new year especially. For you are set apart for righteousness, bringing God's creative solutions to order the chaos all around you. As one of His called people you can rejoice that all things are working together for your good, to the glory of God. For no good thing does He withhold as you walk uprightly. I am convinced you are full of goodness, filled with all knowledge, and able to instruct others. Your life serves God's purposes in the whole world, and this small part of it. You are also full of faith, humility, and love, and can do all things in love, through Him who strengthens you. For nothing is impossible for God. You have all things that pertain to life and godliness through the knowledge of Jesus. You are chosen as his vessel to declare His excellencies — His perfections! — and display His goodness and glory. You work with all your might, as unto the Lord, and surely goodness and mercy shall follow you all the days of your life. Then you will dwell in the house of the Lord forever. You are blessed beyond measure because Jesus Christ our Lord, who took our sin and sickness and shame, who bore them away forever, on the cross. He has defeated all enemies in your life, absolved all your sin, set you free to live as He intended. Jesus has endued you with power and kindness to use the spiritual gifts and unique calling He chose as you fulfill your role as a significant minor character in the big Story.

May this new year continue deeper in His truth, wider in His grace, fully in His joy. In God's glorious plan, where Jesus is the Hero of the Story, as the One who moves the plot forward, you participate in the renewal of all things, the redemption from the curse, and the coming of the Kingdom of God on earth as it is in heaven. You are loved with an everlasting love, and nothing can separate you from the love of God, through Christ Jesus our Lord. It is pure joy to be in this goodness alongside you. Amen! 
We pray this over you on this day. Happy Birthday, Kari! 
It is a joy to walk alongside you, following Jesus together as a family. Now to finish your present, cleaning out the shop.
—Jeff (@deTheos, @renewjeff)
p.s., Kari will return to write next week, so if you're longing for her take on things, you can subscribe by email here to receive all new posts as they're published.