… The day before Thanksgiving we got to hear the sweetest sound, a sound we've longed to hear for such a long time:
The sound of our baby's heartbeat. 
Yes, I'm sharing now. It's still early, and I know it's not "safe" to share. But if I've learned one thing from this life — nothing's safe that's not committed to Christ, everything's safe that is.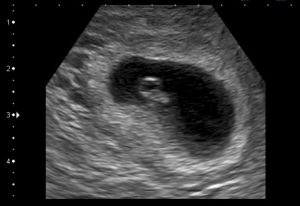 So I share with you, faithful readers who patiently follow my meanderings and ramblings, and ask you to please pray for this sweet child of ours, who even now is being wonderfully knitted together by the Maker, in my womb.
And, this Saturday is my last speaking event, as I'm taking all of 2018 off speaking. It's been 10 years teaching, exploring the sweet Scriptures with so many of you dear and wonderful women, and I'm so unspeakably grateful …
… but this mama is ready for a season of rest.
So this is our year of jubilee, of sorts. We're letting the ground lie fallow. Giving ourselves a little more space. And celebrating the goodness of God these last 10 years and shifting gears for new seasons ahead. I'll still be writing here, of course, so stay tuned, and I may do a weekly podcast so I still have an opportunity to rant and rave about the goodness of God! 😉 Lord willing, I'll be back to speaking in 2019.
Lastly, we are SUPER excited to offer you a super-duper SALE on Sacred Mundane, right here, just in time for Christmas. From now through December 18th, while supplies last, we're offering Sacred Mundane for cheaper than Amazon (or anywhere else! Even cheaper than kindle!) with free shipping! I only have 188 copies left in my garage ;), so when they're gone they're gone, but I'd love to get them to you! It's a great time to snag one for your sister, mom, friends, neighbors.
Below you'll find the book trailer, if you'd like to share that'd be great! Also, if you have read the book or know others who have: Would you consider writing a review on Amazon? (Even if you bought it elsewhere.) Reviews are a huge blessing to me!
Thank you so much for journeying along with me this year. It's been hard and good. I hope this book has been and will continue to be a blessing to you. Please consider sharing it this holiday season!
(If links above won't work for you, simply copy-and-paste either of these links:
https://squareup.com/store/sacred-mundane
https://mkt.com/sacred-mundane
Thank you!)
{Thanks for reading.}
Sacred Mundane: an Invitation to Find Freedom, Purpose, and Joy