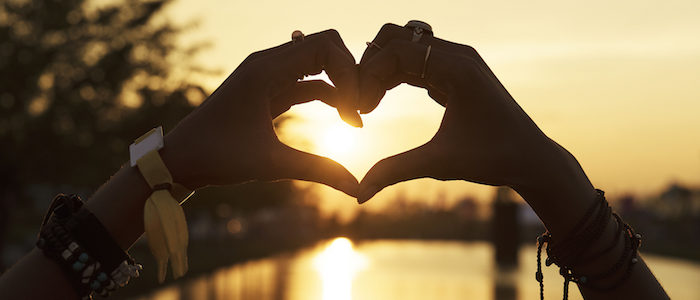 Recently, as I drove home from a speaking event, I was worshiping in the car, singing at the top of my lungs, and so clearly in my mind's eye I saw a picture:
It was of Jeff and me. We were standing side-by-side, holding hands, looking ahead, faces resolved. We were covered in soot, ash. Our hair was singed. And I heard:
You made it through the fire.
Tears welled up. A release of relief, emotions washed over me.
This year has felt like a fire in so many ways. In ways I've shared, in ways I haven't, it has felt like a fire.
And although I know more challenges will inevitably come, there is a peace and joy and relief in sensing that at least this particular season has come to a close.
Later that weekend, Jeff and I sat on the couch, reflecting on this year. I told him how I kept returning to Psalm 119, the psalmist words echoed my own:
"Before I was afflicted I went astray, but now I keep your word.

You are good and do good; teach me your statutes…

It is good for me that I was afflicted, that I might learn your statutes. "
It is good for me.
I thought of the other psalm I always cling to, hold to, trust:
The Lord God is a sun and shield, the LORD bestows favor and honor. No good thing does He withhold from those who walk uprightly. (Ps. 84:11)
No good thing does He withhold … even trials. 
And no, I'm not saying miscarriage is good. Not saying death is good. It isn't. God's good plan is always LIFE. We never have to wonder what His will is in this, it's crystal clear in His Word.
But in this warped and fallen world, where tragedies happen and sorrow's a steady companion, God will WORK FOR OUR GOOD, every bad thing.
He lets the devil do his worst, then flips it all upside down and uses it ALL FOR GOOD. 
Our God can win with any hand.
And I can see this so clearly this year. There were things God had to allow in my life, in order to uproot, to prune, to break. Sometimes we have to be broken — really broken — in order for him to break in to those deep places and bring healing, wholeness, freedom.
Broken hearts bring breakthrough.
See, Psalm 119 highlights an important truth we don't talk about that much: discipline.
Sadly, we tend to think of discipline only as a sort of spiritual spanking. We go through something hard and we're like, "What did I do WRONG? Why are you punishing me?"
But discipline isn't necessarily punishment. Discipline is training. Discipline is proactive, intentional shaping of character, sometimes through difficulty and trial, for the purpose of Christlikeness.
And, it's important to note: discipline is done for children out of love because the parent cares enough to put in the effort to train them. Permissive parenting isn't love, it's a lack of love. Ignoring our kids' misbehavior isn't estimable, it's deplorable. They deserve discipline because they deserve the very best we can give them. They deserve our loving, calm, gracious, and consistent discipline so they can thrive as self-controlled, kind, generous, hard-working adults. (Lord, help us!)
God loves us so much He'll go to great lengths to make us more like Jesus. He says this in His Word.
But notice what parts are present tense and which are past:
It is good that I was afflicted.
The Psalmist is writing this after the fact. At the time it didn't seem good. But now it's good. Now that the broken bone has been set and healed stronger than ever. Now that the season has changed and those pruned limbs have born beautiful fruit. Now that I can see in the rearview mirror His faithfulness through it all.
So what do we do in the middle of it all?
Worship. Wait. Wonder. Wrestle. To name just a few.
We wrestle with the questions and the sea of emotions. We wonder why on earth God would let this happen. We wait on Him, trusting that somehow He will take us through. And we worship Him in the midst, knowing that He is good, right, and perfect.
You are good and do good.
{Praying you know His love for you this week, with whatever you're going through. He can win with any hand. Tuck yourself into His love and KNOW that He will work all things for good. You are so loved. Thank you for reading.}