Out of nowhere it seemed to come, like a wave.
I blinked hard, pulled the little girls closer in on my lap, wrapped my arms around them…
…like I'm the one comforting them but I know of course it's the other way around.
The service ended, but my anxiety didn't, and the easy laughter and light conversation felt incongruous with the heaviness in my heart.
I stood in line for lunch.
Behind me was a friend. We've been in a deep places before. We've known tears, pain, prayers. She's walked dark valleys, I know. I consider for a moment, my arms are folded tight across my chest. It's always so much easier to stay silent, of course. Who wants to be Debbie Downer at the church picnic? But then I think of how many times I've been glad she's shown up, been real, bared her soul. I look into her light face and say it softly:
"Can you pray for me? I'm just …"
It only takes a sentence or two. She gets it. Without a big ado, she leans in, slips an arm around my shoulders, and we enter His throne of grace right there in the buffet line.
After my turkey sandwich, she asks if other sisters can pray for me too. I hesitate. All I can think is, I don't want to be the spectacle. I don't want to be the downer in the midst of all this joy. I'd rather just go hole up, hide out. 
But I've been around these parts enough to know–right when you want to hide is when you most need to step out and show your scraped up heart.
Wounds you hide just fester.
And so I sat on the grass in the shade, and somewhere those sisters all surfaced, silently, from out of nowhere, all around me, hands on shoulders, my feet, my arms. Love and care flowing from friends who aren't competing or comparing, sisters who are SO FOR YOU it's just crazy. Sisters who'd go to great lengths to see you thrive. And they prayed up a storm, and I did the ugly cry and it was worth it because tears cleanse and heal and hope rose up strong and peace came unshakable and I was reminded again why the Church is the embodiment of Jesus Himself.
His hands. His feet. His voice. His embrace.
We need each other.
And all of this was unplanned. Not scheduled. Coordinated. Organized.
The most powerful ministry usually takes place in the ordinary in-between spots as we do life together. 
I remember so clearly, one night this Spring. Bible study night. I wasn't leading that night, and I was so tired.  I'll just stay home, I thought. Nothing big was planned that night. I felt like holing up. But something urged me on to go, and I was so glad.
So much shared. So much need, so much breakthrough, so much unplanned ministry.
So much happens when we just show up for life. 
When you show your stuff, your scars, your stains. When you offer your hand, your heart, your kind smile.
When you don't hole up, hide out, hold back.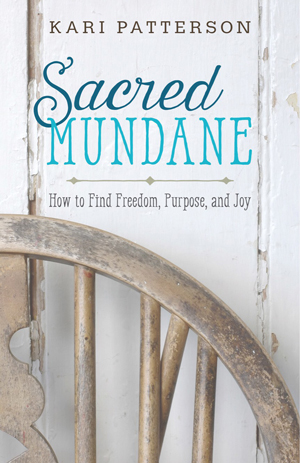 That's why I show up. That's why I share. That's why I wrote Sacred Mundane.
I wrote Sacred Mundane with the hope that women everywhere will see life for what it truly is: An opportunity to see, know, and love the Creator, their Father God who loves them with reckless abandon. My prayer is that self-protective layers will be shed, that light will overcome darkness, that freedom will reign and lives will change.
And today, I'm happy to announce: It's here. It's launch day. I pray these pages bless your heart and draw your gaze up to the One who loves you most of all. It might be just the thing to read together, in community, where arms can slip around shoulders and hands can be held and tears can be shed and life can be lived and hearts can be healed.
So, shall we? We have a little book trailer below, so feel free to share and let's have ourselves a little Sacred Mundane revolution living our ordinary days for our extraordinary God! 
Thanks for reading.
Sacred Mundane: an Invitation to Find Freedom, Purpose, and Joy