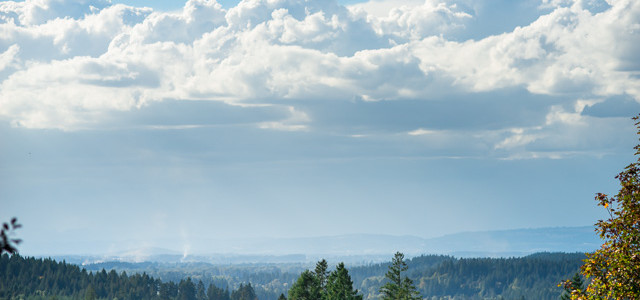 I stumbled downstairs, turned on the hot-water kettle, and looked at the weather on my phone. Seven days of rain. That's not unusual up here in the PNW, of course, but it still strikes you as a bit dreary. Nothing much to look forward to.
And yet, as I curled up with my Bible, sipped my chai, and watched the sun slowly rise, I realized … it wasn't raining. In fact, it didn't rain at all that morning. We slipped on sweatshirts and went outside, walking and playing, enjoying the cool, crisp air, whispering thanks to God for His glorious creation.
At some point that day, sure, it rained some. I'm not sure when because we were inside curled up under a quilt, reading books and savoring the season of slower days.
I noticed, each day that week, that roughly the same thing happened. In fact, on Sunday after church, I emerged into the parking lot to a glorious blue sky, 62-degrees, and sun shining warm on my face. We rolled down the windows halfway as we began our drive home. It was brisk but beautiful.
Then I remembered that I needed gas, so I pulled in, and as the tank was being filled, I marveled again at the beautiful weather. I thought today was supposed to … I pulled out my phone, clicked the weather app and sure enough:
Current weather in Oregon City: Raining.  The app showed rain drops pouring from the sky. From the looks of that screen, it was the darkest, dreariest day you could imagine. Stay inside, people!
But the actual weather outside was lovely.
I sat there in my car, considering how true this dynamic is of life in general. If I look at the world through my screen—social media, news feeds, secular sources, etc. I am convinced that there is nothing but pouring rain in this world. Every day. No breaks. The forecast is bleak, and I better just hole up inside myself because that world out there is just. so. bad.
And yet.
When I get outside and visit my neighbors—who are incredibly diverse I might add—I am encouraged. When I sit with the 85-year-old widow who "doesn't want to talk about God stuff" but who loves my homemade bread and applesauce 😉 I get to pray over her soul and show her, I hope, a little glimpse of God's love. As I serve lunch to the homeless, I look in their eyes and see pain, confusion, anger, fear. I have an opportunity to treat them as they really are—made in the image of God. When I spend time with people face-to-face, even people I don't agree with, I find myself longing to understand them, I enjoy them. When I spend time with my church family, when we do life together, when I interact with others at the store, at the doctor, in the post office … there's an opportunity for redemption, kindness, and maybe, just maybe, an tiny crack of an open door for the message and love of Jesus Christ.
But if I only see the world through my screen, I'll just hole up inside. Too dark and dreary out there.
This last fall, several of us came to the same conclusion: God is the only One who can handle ALL the sorrow of the world. He's the only One with the capacity to process (and do something about) all the world's pain. We are so tiny. We are so finite.
He didn't create us with the capacity to carry the whole world's weight.
Because we don't need to.
This doesn't mean we stick our heads in the sand and ignore everything. That would be the other ditch. But could it be that we bite off more than we can chew? That is, we inform ourselves of more things than we can possibly pray for or actually do anything about. We over-inform. Compulsively.  So we often miss the blue-sky outside, the opportunities to engage in the world right outside us, because we're sucked into the online forecast, taking on the whole world's sorrows, so heavy we can't carry out the good work He's given us right where we are.
So, friends, I resolve: Figure out the weather by looking outside. I don't need to fret over the whole 7-day forecast. When I was little my grandpa had a "Weather Rock" in his garden. There are lots of variations of these, but his read something like this: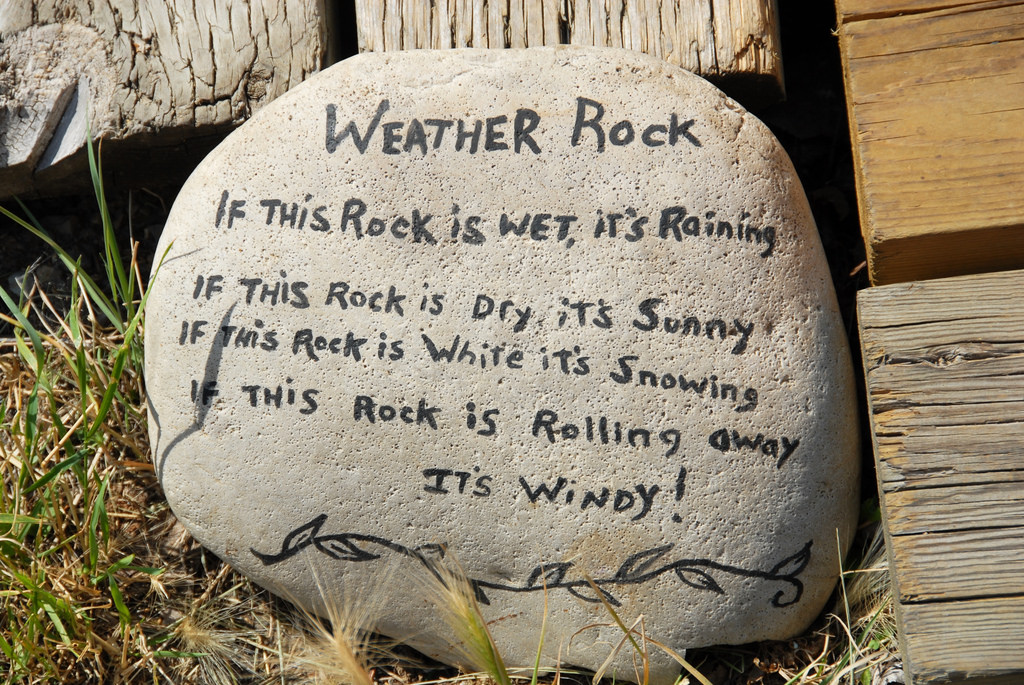 Let's engage with the real weather outside, loving those near us now, and not let a screen scare us into hiding out inside. Have a great week. {Thanks for reading.}