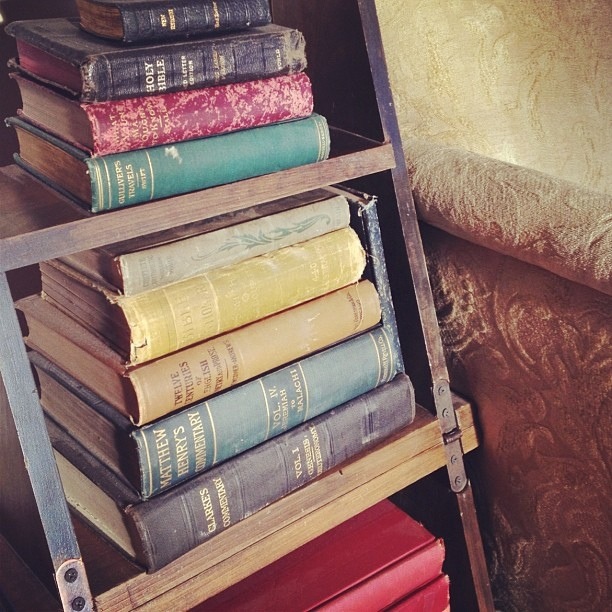 It seems that every year my to-do list gets longer and my reading list gets shorter. *sigh* But I will not give up! Reading is my daily food for my soul. It's my sustenance. I can feel the difference in my life when I have not had or taken time to read good books. I get irritable. I get writer's block. I get dry spiritually. I need a steady diet of quality content or I shrivel up inside! And I firmly believe that readers are leaders. If we really want to change from the inside out–read good books. No twaddle allowed! These 15 fabulous books were my 2013 Best Reads:
1. The Well-Trained Mind: A guide to classical education at home. This book was one of the highlights of the year, no joke. Inspiring, thought-provoking, helpful, practical. Not saying it must be followed to the letter, but I'd recommend as a must-read for any parent, not just homeschoolers.
2. Touching Godliness (Only $2.99 on kindle). Not even going to talk about this one. Because you won't want to read it. But you need to. 😉 You may have read about it here. 
3. I Told Me So. Man oh man oh man I enjoyed this book! Written by a professor of philosophy, it revels the myriad ways that we deceive ourselves often, daily, continually, sometimes even knowingly. Far from being a depressing downer, this book is inspiring and encouraging. He gives fascinating insights into human nature. In fact, it's kind of creepy because you start detecting self-deception everywhere. Beware! It's like tearing blinders off your eyes. Definitely worth reading. Enjoy!
4. Educating the Whole-Hearted Child. Another phenomenal read on educating our children. I actually keep this one on my nightstand and take it with me whenever I go on overnights anyway, because re-reading any of it gives me the instant encouragement, inspiration, or direction I need for homeschooling. It's just a gift in every way. Love the clear, loving voice and wise counsel of the Clarksons.
5.Intimate Issues. Aye Yai Yai! This is another one you don't want to read but need to. 😉 Really, really, really, really honest look at, well, intimate issues. I need to read it again but that's TMI … moving on now!
6. Pursuing Justice. This is a clear, well-written, thought-provoking overview of biblical justice issues. I enjoy Wytsma's voice and writing style. If you've never read any books on topics of biblical social justice, start here!
7. The Prodigal God. Well I love Tim Keller and that's all there is to it. He writes with such clarity, succinctness, candor, and piercing conviction. This quick read is an overview of the scandalous gospel truth–that God went to extravagant lengths to rescue us, his lost and prideful children. His words swoop you straight in to the heart of God. Must read.
8. One Big Thing. This is a quick (really quick) read ($2.99 on kindle) written by a business man who helps companies focus their energies on what's most important. He gives some great insights from his years of business experience, and gives thoughtful self-reflection questions to help you determine your life calling. This might be a great quick read to help you narrow your focus for 2014.
9. A Severe Mercy. Oh my. This is a ignore-your-family-for-hours-on-end-and-cry-yourself-into-a-massive-headache book. I love it. Adore it. It kindled love in my heart for Jeff like nothing else has. But I don't think I can ever read it again because I cried so hard I couldn't think straight. Read it. But not today. Get it and set it aside for a vacation or some time when you can crawl inside and get lost. And bring kleenex with you. Or a towel.
10. Boys Should Be Boys. If you have a son, get this book! Love it. Partly because I already agree with everything she says. (That's always fun.) But also because she has decades of experience working with boys, and has solid evidence for her claims. She write with clarity, confidence, and hope. I'll probably read this book again this year, it was such life-giving experience and inspiration for me raising Dutch.
11. Running For My Life. Ahhh! Another vacation book! Take this one on an airplane (although you will likely laugh and cry out loud so be forewarned). This follows the life of Lopez Lomong, Olympic runner who came from the killing fields of Sudan, a child-soldier kidnapped from his parents when he was 6. His story is NUTS. Absolutely nuts. I just kept laughing and crying, laughing and crying. Again, not one to read a chapter at a time, go away somewhere and devour it. (kindle version is only $2.99!)
12. Respect Dare. Ummmmm… Ok I admit I haven't finished this yet! I'm such a lousy wife! I started it and then … well, then I stopped. My resolution is to finish it. The book is good, but it requires us doing something every day. Um… that's difficult! Enough whining. I'll finish it.
13. Bold Love. I haven't finished this one yet either, but only because it's a great slow read, a few pages at a time, then letting things sink in. I greatly enjoy Dan Allender's writing, his humility and kingdom-mindset on life and relationships. He writes with decades of experience in professional counseling, and his insights into human relationships are spot on. Terribly convicting and encouraging all at once. Definitely recommend it if there's anyone in your life you have a hard time loving. (That would be all of us.)
14. The Plan. I already wrote about this here, but this hands-down my favorite book on nutrition and health. Phenomenal. Worth buying and keeping on hand as a reference. Our copy sits on the kitchen counter.
15. Rees Howells, Intercessor. I re-read this because it's just so good I might read it every year. It's not a theological dissertation, it's just a story. You may not agree with all of it, but you can't deny the mind-blowing power of God at work in this man's life. It brings me to my knees, literally. This is another book to read slowly because it's so convicting sometimes you just have to put it down and pray.
My 2014 book list is still taking shape.  Will you help me? Many of my favorite reads have come from your recommendations, so:
Would you please help by sharing one or more of your all time favorite reads below?  We'll randomly pick one commenter to win one FREE book off the list above.  Thanks so much for sharing, and for reading.