I've written six books, one now in print, and all are available to download on Kindle (though they can be read in your web browser, on just about any computer or mobile device). Click on book cover image to purchase.
Contact Kari or ask if she's available to speak to your group. Thanks for reading.
Sacred Mundane: How to Find Freedom, Purpose, and Joy
Sacred Mundane is now out in print wherever books are sold, and on Amazon Kindle (order here). 
All author's royalties from the sale of this book will benefit World Vision's work with women and children in need.
---
If you could change one thing about your life what would it be? 
If you could change one thing about yourself what would it be?
Now: What if the first was the secret to the second, and the second the secret to the first? And what if the key to life-change, to breakthrough and transformation and extraordinary growth, is just waiting for you within the ordinary life you already live?
What if it's been right in front of you all along?
In Sacred Mundane, Kari Patterson pulls open the dusty blinds and allows you see every aspect of your life for what it really is: An opportunity to see, know, love, and be utterly transformed by a God who knows no bounds, who refuses all confines, who upsets every expectation, and who ruthlessly pursues our hearts and our good with reckless abandon. He patiently waits to be invited in to every ordinary aspect of our lives. He eagerly awaits the opportunity to transform our lowly lives into a glorious existence, filled with mundane miracles and holy habits, filled with purpose and passion, filled with victory and the sweetness of His voice.
With profound biblical insights and candid real-life stories, Kari slips her hands in yours and leads you into the life of wholeness, purpose, victory, and joy. Perfect for personal or small-group study, complete with Bible study materials and discussion/reflection questions, Sacred Mundane contains everything you need to glean the glorious nuggets of truth hidden within the life you already lead. Come, dive in, and learn to let your days transform your life.
All author's royalties from the sale of this book will benefit World Vision's work with women and children in need. (World Vision is a Christian humanitarian organization dedicated to working with children, families and their communities worldwide to reach their full potential by tackling the causes of poverty and injustice.)
I Will Look Up: 31 Mornings Seeking Him First
---
Every single day there are countless opportunities to look down. Down in discouragement. Down in weariness. Down in shame. There are also countless opportunities to look around. Look around at everyone else's success. Look around at all the things we think we need. Look around at all the endless tasks and needs and responsibilities surrounding us.
But something supernatural happens when we, like the psalmist, Look Up.: When we seek Him first. "Oh Lord, in the morning, will I direct my prayer, unto Thee and will look up" (from Psalm 5).
I Will Look Up is the perfect companion for any who desire to seek Him first. Thirty-one honest, scriptural, thought-provoking messages, along with practical action steps, will help readers live life with eyes upturned.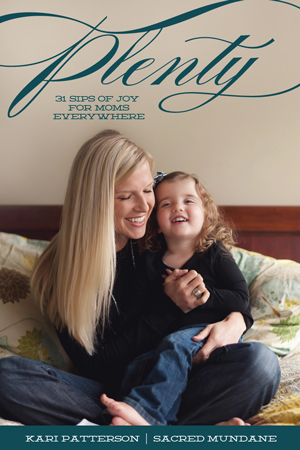 Plenty: 31 Sips of Joy for Moms Everywhere
---
For moms everywhere, there is plenty. Plenty to worry about. Plenty to do. Plenty of people demanding your attention and needing your love. But there is also plenty for you. There is plenty of grace to forgive every fault. There is plenty of mercy to help in time of need. There is plenty of love to cover a multitude of sins. There is plenty of courage to make you brave for the battle. There is plenty of strength to help you stand. There is plenty of power for life and godliness.
There is plenty of joy in God's presence.
This inspiring and encouraging 31-day devotional book features words of truth and stories of hope, practical advice and creative ideas for putting faith to action. Above all, each day is a reminder that every mom truly has been given plenty for whatever comes her way each day.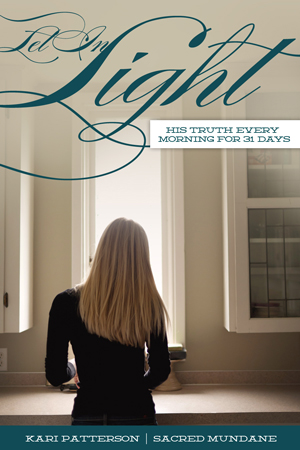 Let in Light: His Truth Every Morning for 31 Days
---
Every single day, first thing in the morning, we must let light into our world. We all must. Without His Light, we're lost. We're in darkness. We must daily turn on the Light of God's Word, to allow us to see. Without His light, we're lost. We'll see the world through a distorted lens. We won't know which way to go. We won't have the wisdom we need for decisions. We'll be stumbling along through life, groping in the dark each day, desperate for guidance, starving for hope.
He has given us everything we need for life and godliness. But we must let His light into our lives. Every single day. This little book helps you establish this light-letting-in habit: His truth every morning for 31 days.
"Your Word is a lamp to my feet and a light to my path" (Psalm 119:105).
"In Your light we see light" (Psalm 36:9).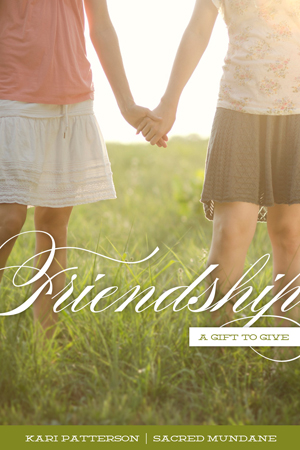 Friendship: A Gift to Give
---
Female friendships – we love them and hate them. Perhaps we've tasted their sweetness—the intimate confiding, the side-splitting laughter, the unspoken understanding, the tender times of sharing. But also perhaps we've tasted their bitterness—the silent competition, the misunderstanding, the hurt feelings, and even the betrayal and deep wounds many of us have endured. At times we hunger for more friendship and at times we envy Eve, in Eden, where there were no other women around! Never have we been more connected and never have we been more alone. Jesus said there is no greater love than true friendship. So what is this type of friendship Jesus speaks of, and how do we find it? And how do we move past our wounds and insecurities to reach out a tender, vulnerable hand and grasp the one beside us? Through the stories of six scriptural duos—and a handful of contemporary ones—this book will inspire, encourage, and enable you to give the greatest gift—yourself—and discover heavenly friendship along the way.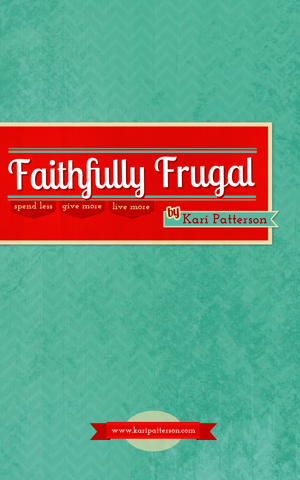 Faithfully Frugal: Spend Less, Give More, Live More
---
Faithfully Frugal leads readers on a journey into simplicity, generosity, and joy. Instead of just looking to save a dime, score a deal, and snag the doorbuster, we teach the true secrets of frugality that turn the penny-pinching game into a life-giving pursuit. She shares her family's real life story—from chasing the elusive American dream to embracing a life of simplicity, contentment and peace. Complete with fun stories, biblical truths, family-friendly frugal recipes, and 35 crazy ways to save, Faithfully Frugal will help you spend less, give more, and live more.