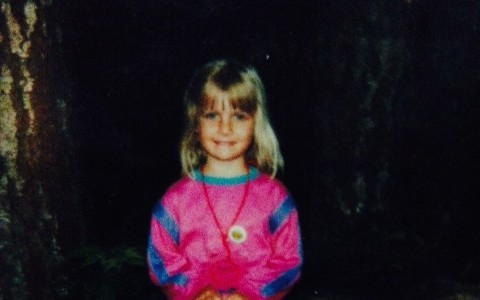 I woke up early that morning (it was my birthday) and sneaked downstairs.
I was turning six and so excited for my tea party that day. Mom was still sleeping; she had been working hard to prepare for my party, and I wanted to do something special to help her. I looked up onto the high counter and saw the antique sterling silver tea set. That was it! I knew that one of the things she needed to do that morning was polish the silver–I could surprise her and do it for her! Yes, that was the perfect idea.
Now, Where's the polish? 
I vaguely remembered there being polish in the laundry room, so I dug around a little until I found it. It was thick and white, and oozed out of a special spongy tip on one end.
I set to work with all my heart. Rubbing carefully, I covered every surface of the sterling silver set. It was very white and very pasty. Hmm… It definitely looked different from what I'd imagined, but I was glad that I'd finished the job completely before mom woke up.
Just then she came in.
"Oh my!" she said. Her eyes were so big. (She was so surprised!) She smiled wide, really really wide, as she looked at the silver and at me.
"I polished the silver for you Mommy!" She looked at me with so much love in her eyes and this huge smile, I could tell she was so incredibly blessed by my hard work for her.
"Thank you," she said, and meant it. "Thank you so much. Can I take a picture of you there with the silver?"
I beamed, and sat beside the white chalky silver for a photo.
Then she came next to me: "Now, shall we make it a little less white? We can work on it together." Together we did a little more work, rinsing off all the white stuff, and wiping the silver clean. Then, still smiling, she pulled out another container from a tall shelf in the kitchen.
"This is the silver polish. Let's use this one on the silver; ok?  We can do it together." I beamed, still so happy because she was so happy. I knew she was pleased.
It wasn't until much later that I understood what all took place, when I looked back at the photo in an album and saw the caption:
"Kari loves to help. She polished the silver for me with shoe polish. :)"
Shoe polish.
Here's what I love: When I think back on that memory, there is only joy. Sure, in a very real sense I did it wrong. I polished silver with shoe polish. But I don't remember any shame. No anger, or irritation, or annoyance. I wasn't belittled.
My mom saw my heart, and in my heart: I got it right. 
Last week was a busy one for me, and one morning I came downstairs and discovered that Heidi had wanted to bless me. So she was unloading the dishwasher. She was doing the utensils, but since the counters are so high she was sorting out all the clean silverware … on the floor.
"Mommy!  I'm helping you!" She beamed.
"Oh!" I smiled, a wide, wide smile.  "Thank you. Thank you so much," I said, and meant it. And while she wasn't looking (she's a photo-phobe), I snapped a pic because someday I want her to know that even when she got it wrong, her mama knew she got it right. 
Oh friend, how often I have feared stepping out in faith to serve my God, because I was so afraid I wouldn't get it right? How often I have feared the failure, or the looking foolish. But there is so much grace and freedom in the Kingdom. Our Father sees our hearts, when we earnestly and honestly work to love and serve Him from a heart of humble childlike faith.
Even when we get it wrong, He sees we got it right. 
{May this freedom rule your hearts this week. No fear! Polish the silver! With love…thanks for reading.}